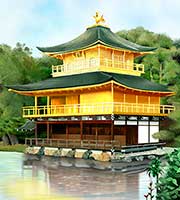 Kinkaku-ji Temple

Address: 1, Kinkakuji-cho, Kita-ku, Kyoto-shi, Kyoto
Tel: +81-75-461-0013
Opening hours: 9:00 a.m. to 5:00 p.m.
Closest bus stop: Kyoto City Bus, Kinkakuji-mae
Speaking of Kinkaku-ji Temple, what comes immediately to mind is the glittering Golden Pavilion with a splendor that is almost unparalleled. It is a highly popular spot among Japanese as well, and is an absolute must-see on any visit to Kyoto.
The reflection of the pavilion in the so-called Mirror Pond is a breathtaking sight. In winter, its beauty is further enhanced by a dusting of snow, making February a good time to visit.
Recommended route <Time required:31 min>
"Hearton Hotel Kyoto" → 2 min on foot → "Subway Karasuma Line, Karasuma Oike Station, Dest. Kokusaikaikan" → 4 min → "Subway Karasuma Line, Imadegawa Station" → "Kyoto City Bus #59" → 20 min → "Bus Stop: Kinkaku-ji mae" → 5 min on foot → "Kinkaku-ji Temple"